Pop-Up Drum Fill Gauge #DRM245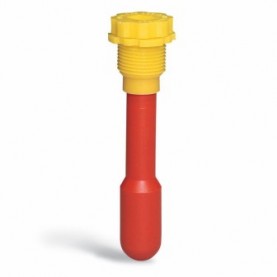 Sold as: 1 each
Prevent overfilling of drums!
Product Details
Product Description
Prevents overfilling drums
Corrosion-resistant polyethylene
13cm long
Warnings & Restrictions
If using this product with flammable liquids, please consider the regulations that apply to storage and handling of flammable liquids and the safety of this application, specifically flammable vapours, static discharge and heat sources. For further assistance, please call Technical Services.
Specifications
Color: Red & Yellow
Dimensions: 13cm L
Sold as: 1 each
Weight: 0.07 kg
Composition: HD polyethylene
Start of Indication: 11.5cm From Top°F Drum
Ullage (Air Space) Left: 7.5cm
Technical Documents