PIG® Leak Diverter for Roofs #TLS552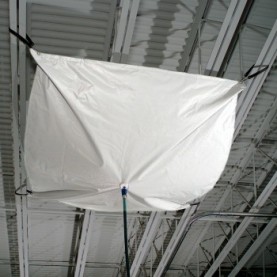 Sold as: 1 each
Water, oil or other liquids dripping from your roof or ceiling? Stay dry — and keep your floors safe.
Product Details
Product Description
Protect workers and equipment from overhead leaks
Diverter uses a 1.9cm drainage hose connection to drain water safely away from your work area
Nonpermeable tarp is vinyl-coated for strength and durability; resists punctures, UV and mildew for long life
Optional coloured material is also flame-resistant for additional safety
4 heavy-duty grommets for easy installation and tear prevention
Flow rate is 12.6 litres/minute when used with a 1.2cm ID Drainage Hose (TLS679)
Specify colour: Red, Green, Clear, Grey, Black or Translucent
Drainage Hose and Rubber Hanging Straps sold separately
Replacement Valve (TLS645) available; conveniently replace Leak Diverter valve in case of damage or loss
76cm x 76cm
Warnings & Restrictions
Limited chemical-resistance; not suitable for temperatures over 190° F/88° C.
Specifications
Dimensions: m76cm L x 76cm W
Sold as: 1 each
Weight: 0.9 kg
Composition:
Fabric wt. – Red-Green-Grey-black 10 oz.
Trans.- 13oz
Clear- 12.68 oz.
Fabric Comp. – Red-Green-Grey-Black-trans.- 67% PVC/33%Polyester
Clear- 100% PVC (Vinyl)
Flow Rate (Maximum): 12.6L/Min w/ 1.2cm ID Hose
Intermittent Exposure: PVC Softens at 200°F (93°C), PVC Melts at 300°F (149°C)
Temperature (Continuous Exposure Max): 150°F (65°C)
Temperature (Valve Max): Melts at 280°F (138°C)
Includes:
1 – 76cm x 76cm Leak Diverter
1 – 1.9cm Dia Drain Fitting
4 – Grommets
Technical Documents