PIG® Form-A-Funnel® Flexible Draining Tool #TLS703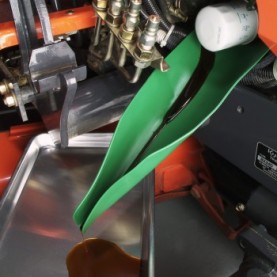 Price: €25.00
Sold as: 1 each
Divert oil around engine parts & right into your drain pan for guaranteed no-mess oil changes! The PIG® Form-A-Funnel® Flexible Draining Tool bends, moulds & holds any shape so you can customise the perfect channel to drain liquids with no mess.
Product Details
Product Description
Mould, bend and twist into custom shapes to create leakproof channels for draining oil; can also be formed into funnels, drip trays and other liquid-management tools
Soft rubber edge forms a seal around filters or drains
Thick, pliable nitrile rubber coating completely encases a thin, bendable layer of aluminium alloy; reshape and reuse thousands of times
Highly compatible nitrile ensures safe handling when used with common vehicle liquids and chemicals; works in temperatures from -34˚C to 218˚C
Cleans easily with a wet rag; also compatible with most cleaners and degreasers
Store flat or roll up to take along in your tool box or glove compartment
Ideal for draining oil and other fluids from any type of vehicle or equipment, including cars, trucks, motorcycles, aircraft, boats, forklifts, generators, lawnmowers and more
Warnings & Restrictions
There are no known warnings and restrictions for this product.
Specifications
Dimensions: 37cm L x 16.5cm W
Temperature (Maximum): 425°F (218°C)
Sold as: 1 each
Weight: 0.29 kg
New Pig Patent: 7,851,038
Composition:
Skin – Nitrile
Core – Aluminium alloy
Technical Documents