PIG® Envirosalv Overpack Salvage Drum Plus #PAK229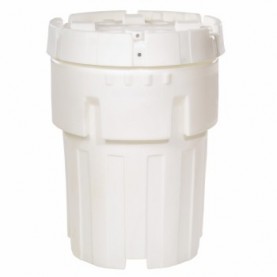 Sold as: 1 each
Safely and securely ship hazardous materials in a PIG® Overpack that's loaded with extra features. The lockable, stackable Envirosalv Salvage Drum Plus is built stronger and seals tighter for added strength, security and convenience.
Product Details
Product Description
Specifically designed for leaking drums up to 210 litres
X-rated for Packing Groups I, II and III, so it's ideal for regulated packaging applications, including shipping hazardous waste by land, sea or rail
X-base design makes opening and closing Overpack easy for one person; drum base accepts a 2×4 or pole so you can stabilise bottom of drum while you tighten the leak-proof lid
Male/female pattern on lid and base "lock" together stacked Overpacks for secure storage that won't easily tip over
Extra-long side shoulders and sturdy rib design provide added strength and stability when units are stacked or in the event that they are dropped; allow Overpack to be moved easily with forklift
Crush-resistant gasket with memory creates a tight, non-slip seal to keep drum contents securely inside Overpack during shipment
Can be equipped with a Lock Down Kit (sold separately) for increased security during shipping and to prevent tampering when stored
100% polyethylene material is light-weight and chemical resistant
Nest empty containers to save storage space
Warnings & Restrictions
If using this product with flammable liquids, please consider the regulations that apply to storage and handling of flammable liquids and the safety of this application, specifically flammable vapours, static discharge and heat sources. For further assistance, please call Technical Services.
Specifications
Color: White
Dimensions: ext. dia. 81cm x 112cm H
Storage Capacity: 360 L
Dimensions (Exterior): 81cm Top Dia. x 66cm Bottom Dia. x 112cm H
Dimensions (Interior): 68cm Top Dia. x 63cm Bottom Dia. x 94cm H
Sold as: 1 each
Weight: 25.4 kg
# per Pallet: 1
Composition: 100% UV-protected Polyethylene
Technical Documents