Mezzo Eye Wash Dispenser #NPL121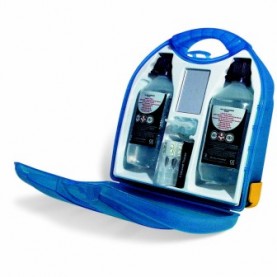 Sold as: 1 dispenser
Portable Eye Wash Dispensers provide instant washouts.
Product Details
Product Description
Mezzo Eye Wash Dispenser is an economical, "no-frills" dispenser
Compartmentalised interior for quick and easy access to eyewash supplies
Eyewash components are individually tamper-resistant — once a product has been opened for use, it cannot be resealed
Meets and exceeds current HSE recommendations
Features a carry handle, wall-mount bracket
Translucent front panel for "at-a-glance" stock control
Warnings & Restrictions
There are no known warnings and restrictions for this product.
Specifications
Color: Green
Dimensions: 27cm W x 29cm H x 10.2cm D
Sold as: 1 dispenser
Weight: 1.2 kg
Composition:
Dispenser – Polypropylene
Eyewash – Sterile Solution of Sodium Chloride Ph.EUR.0.9% w/v in Purified Water B.P.
Includes:
2 – 500mL Eye Wash
1 – Eye Pad
2 – 20mL Steriflow Pods
10 – 1mL Saline Minipods
1 – Ultra Soft Tissues Pack
1 – Mirror
Technical Documents