PIG® Two-IBC Modular Spill Pallet #PAKE130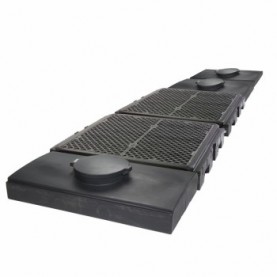 Sold as: 1 each
Expandable Modular unit minimises IBC storage cost and features low deck height for easier loading.
Product Details
Product Description
Cut your costs for storing multiple IBC units in compliance with regulations; a PIG® Multi-IBC Modular Spill Pallet provides capacity more economically than individual storage units. Flow-through connections let individual components share sump capacity to help you meet storage regulations. The connectable design also allows an easy-loading 22cm deck height.
Includes two 284L pallet sections and three 246L Expansion Tanks; connected unit provides 1,306L of total capacity to help you meet secondary containment requirements for two 1,000L IBC units
Increase sump capacity by connecting on an individual pallet section or Expansion Tank
Includes four pairs of 3.2cm diameter, flow-through Bulkhead Fittings that let you easily connect components; additional Fittings sold separately
Includes specially-designed Tool Kit for connecting components
Each Tank features a hatch lid for easy access to collected liquid
Each heavy-duty pallet section supports 4,082kg UDL and measures 159cm square—accommodates all 1,000L IBC units
Each pallet section features 4-way forklift pockets for easy moving, plus anti-slip grates that lift out for easy access to sump
Pallet sections and tanks are 100% polyethylene to resist corrosion and most chemicals, including acids, solvents and oils
Warnings & Restrictions
If using this product with flammable liquids, please consider the regulations that apply to storage and handling of flammable liquids and the safety of this application, specifically flammable vapours, static discharge and heat sources. For further assistance, please call Technical Services. Assembly Required
Specifications
Recycled Content: 35% Post-Industrial Recycled Polyethylene
Load Capacity UDL: 8164 kg
Sump Capacity: 1306 L
Dimensions (Grate): 132cm L x 132cm W
Sold as: 1 each
Weight: 241.5 kg
New Pig Patent: 5,562,047 and other foreign patents
Composition: Polyethylene
Dimensions (Lid): 46cm Dia.
Includes:
2 – 159cm L x 159cm W x 22cm H Pallet
3 – 155cm L x 79cm W x 32cm H Expansion Tank
1 – Tool Kit
4 – Bulkhead Fittings (2/pack)
Technical Documents