PIG® Roll Top Hardcover #PAK901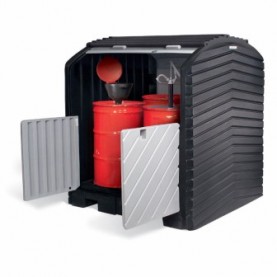 Sold as: 1 each
Securely store four drums indoors or out, with pumps and funnels in place. PIG® Roll Top Hardcover catches leaks, drips and spills to help you comply with containment regulations.
Product Details
Product Description
Roll Top slides up and out of the way for easy access to drum tops while the rest of the unit stays closed; store up to four drums with pumps or funnels in place
Low-profile pallet with sump catches leaks, drips and spills while keeping drum tops and accessories within reach
Ergonomically designed Roll Top only goes down to waist height to eliminate bending and reaching
RollWeather-tight unit can be used both indoors and out
Heavy-duty construction allows hardcover and pallet to be lifted by a forklift (two-way forklift enrty) with drums in place
Doors and Roll Top can be secured with a padlock (not included)
Heavy-duty, weight capacity of 4,082kg UDL — supports any 4-drum load
Optional Ramp makes it easy to add or remove drums
Roll Top and durable doors on front and rear of unit provide easy access from both sides
Warnings & Restrictions
If using this product with flammable liquids, please consider the regulations that apply to storage and handling of flammable liquids and the safety of this application, specifically flammable vapours, static discharge and heat sources. For further assistance, please call Technical Services.
Specifications
Dimensions: 164cm W x 201cm H x 157cm D
Recycled Content: 17% Post-Industrial Recycled Polyethylene
Load Capacity UDL: 4082 kg
Sump Capacity: 284 L
Sold as: 1 each
Weight: 213.5 kg
# per Pallet: 1
Composition:
Pallet & Cover – Low-Density Polyethylene w/ UV Inhibitor
Grate – Injection Molded Polyethylene
Capacity: 4-Drums
Maximum Internal Storage Space: 132cm W x 132cm D x 155cm H
Technical Documents