PIG® Poly IBC Containment Unit #PAK736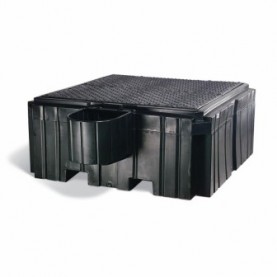 Sold as: 1 each
Low-profile Containment Unit helps you comply with regulations and store IBC tanks safely. Capture leaks, drips and spills to keep floors dry and workers safe.
Product Details
Product Description
Low profile for easy access to and dispensing from IBC tanks
Built-in bucket shelf has its own 11.5-litre "mini-sump" bulkheaded to the main sump that allows easy dispensing into containers from an IBC
Solid anti-slip deck holds a variety of IBC sizes
Polyethylene construction resists UV rays, rust, corrosion and most chemicals
Two-way forklift entry for easy movement when not loaded
Black sidewalls hide grime
Warnings & Restrictions
If using this product with flammable liquids, please consider the regulations that apply to storage and handling of flammable liquids and the safety of this application, specifically flammable vapours, static discharge and heat sources. For further assistance, please call Technical Services.
Specifications
Style: With bucket shelf
Dimensions: 157cm L x 157cm W x 66cm H
Recycled Content: 26% Post-Industrial Recycled Polyethylene
Load Capacity UDL: 3856 kg
Sump Capacity: 1363 L
Sold as: 1 each
Weight: 151 kg
# per Pallet: 3
Composition:
Sump – Linear Low-Density Polyethylene w/ UV Inhibitors
Grate – Injection Molded Polyethylene
Dimensions (Bucket): Internal: 35.5cm W x 47cm D x 30.5cm H
Dimensions (Deck Surface): 132cm x 132cm
Dimensions (Fork Pocket): 18cm W x 10cm H
Distance Between Fork Pockets: 38cm
Technical Documents