PIG® Bucket Shelf for Twin Poly IBC Containment Unit #PAKE738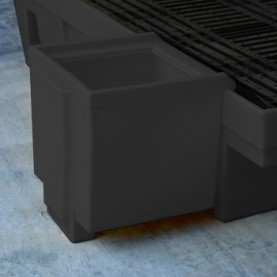 Sold as: 1 each
Add this Bucket Shelf to the PIG® Twin Poly IBC Containment Unit to create a contained dispensing station. Shelf's mini-sump is bulkheaded to main sump to drain away drips and splashes.
Product Details
Product Description
This 86-litre "mini-sump" hooks onto the main sump and allows easy dispensing into containers from an IBC
Raised edges overflow any excess liquid back into the main sump of the containment unit
Robust 100% polyethylene construction is strong, durable and corrosion resistant
Warnings & Restrictions
If using this product with flammable liquids, please consider the regulations that apply to storage and handling of flammable liquids and the safety of this application, specifically flammable vapours, static discharge and heat sources. For further assistance, please call Technical Services.
Specifications
Dimensions: 53cm L x 51cm W x 56cm H
Sump Capacity: 86 L
Sold as: 1 each
Weight: 4 kg
# per Pallet: 12
Composition: Polyethylene
Technical Documents