General Purpose Safety Store #NPL206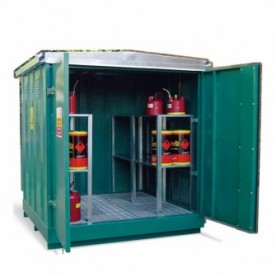 Sold as: 1 each
Safely store flammables, chemicals and other hazardous materials.
Product Details
Product Description
Relocatable Store can be moved with a suitable forklift or crane
Fully-welded, 2mm-thick steel construction offers improved strength and durability over riveted units; ideal storing flammables, chemicals and hazardous materials
Leakproof, 800L sump catches leaks, drips and spills; helps prevent groundwater contamination
Per HSG 51, light weight roof is designed to be the weakest point to maximise safety; in case of fire or explosion, the blast will go upwards through the roof instead of blowing the doors or walls outwards
Galvanised pitched roof with 8cm wide guttering on both sides prevents rain water from puddling and collecting
Each side of the Safety Store features two full-length shelves
Removable galvanised grid flooring
Fully-opening double doors are lockable with a drop "T" latch lock (2 keys included)
Chemical- and corrosion-resistant paint also withstand harsh outdoor conditions, minimum of 100 microns thick
Warnings & Restrictions
There are no known warnings and restrictions for this product.
Specifications
Color: Varies
Dimensions: 210cm W x 240cm H x 210cm D
Load Capacity UDL: 3375 kg
Sump Capacity: 800 L
Dimensions (Exterior): 8cm wide gutter on sides, increasing overall width to 226cm
Sold as: 1 each
Weight: 1250 kg
Composition: 2mm profiled mild sheet steel over 50x50x3mm RHS tube
Dimensions (Interior): 200cm Sq. x 190cm H
Dimensions (Shelf): 200cm L x 50cm W
Notice: Unit is not Suitable for Temperature Sensitive Liquids, Eg.
Safe Working Load Per Shelf: 80kg
Technical Documents