SPILLBLOCKER® Dike #PLR267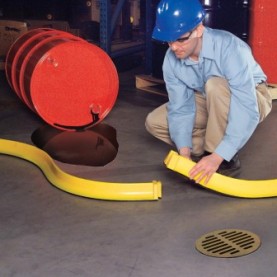 Sold as: 2 per box
7.6cm SPILLBLOCKER® Dike is designed in an easier-to-handle size with built-in connectors — divert spills anywhere without extra parts!
Product Details
Product Description
7.6cm high — confines and diverts deeper pools of liquid; ideal for managing large flows of liquid
Easier-to-handle design — made in two 152cm sections; can be used separately or as a 304cm Dike
Built-in dovetail connectors — no need for extra parts to connect two Dike sections; creates a liquid-proof seal when properly connected
Made of flexible, non-absorbent polyurethane
Two-part construction — durable top layer and a tacky bottom
Resists oil, water and many chemicals
Choose high-visibility yellow or grime-hiding black
Corners (PLR268, sold separately) create 90 degree angles on PLR267 — available in black only
Warnings & Restrictions
Due to the nature of softer urethane, the physical properties of these products may change over time with exposure to certain environmental conditions like temperature, humidity and UV radiation. Typical life expectancy is 5 years. Please inspect the stored product regularly to ensure it is in a usable state. For more details and for chemical compatibility, please call Technical Services.
Specifications
Dimensions: 1.52m L x 9cm W x 7.6cm H
Sold as: 2 per box
Weight: 11.34 kg
# per Pallet: 60
Composition: 100% polyurethane
Technical Documents