PIG® Tanker ADR Spill Kit #KITE225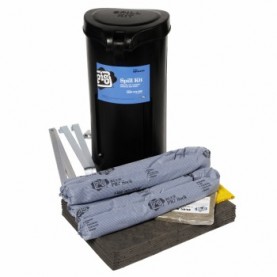 Sold as: 1 each
This Spill Kit is designed to fit onto your vehicles and trailers used for transporting liquids. Provides peace of mind for speedy response to leaks & spills, whilst helping your compliance with ADR Regulations.
Product Details
Product Description
Container is manufactured from polyethylene making it lightweight and durable with a high chemical and impact resistance
Waterproof seal on container lid protects your absorbent spill kit from the weather
Easy fitment to your vehicle cab or trailer using the included fixing brackets & kit
Contains our PIG® PLUG-N-SEAL® Disposable Drain Seal to protect any surface drains in the spill area – a requirement of the ADR Regulations
Packed with PIG® absorbents to soak up leaks and spills of oils, coolants, solvents and water
Warnings & Restrictions
There are no known warnings and restrictions for this product.
Specifications
Dimensions: 31cm W x 67.5cm H x 28cm D
Fluids Absorbed: MRO
Absorbency: Up to 25.1 L
Other Information: Mounting hardware included
Sold as: 1 each
Weight: 10.84 kg
# per Pallet: 14
Composition:
Mats – 100% Polypropylene
Socks – Vermiculite filler, polypropylene skin
Drain Seal – Bentonite Clay
Disposal Bags – Polyethylene
Container – Polyethylene
Includes:
20 – 38cm x 51cm Universal Mat Pads
3 – 8cm x 122cm PIG® BLUE Absorbent Socks
1 – 41cm x 41cm Disposable Drain Seal
5 – 46cm x 76cm Disposal Bags & Ties
1 – Spills Happen Leaflet
1 – Fixing Kit
Technical Documents