PIG® Spill Response Bag #KIT320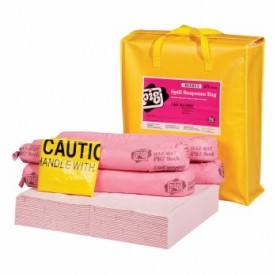 Sold as: 1 each
Use this grab-bag kit for rapid response to hazardous spills.
Product Details
Product Description
Contains PIG® Haz-Mat Absorbents for acids, caustics and unknown liquids
Durable water-resistant bag
Hand straps for carrying or hanging Kit on the wall
Highly-visible safety yellow
Flaps open and close easily with 'hook and loop' fastening
Absorbs acids, caustics and unknown liquids
Warnings & Restrictions
To insure effectiveness and your safety, we recommend that you conduct compatibility and absorption testing of your chemicals with PIG® HAZ-MAT products prior to purchase. If you have any questions or need samples to test, please call Technical Services.
Specifications
Dimensions: 43cm W x 52cm H x 15cm D
Fluids Absorbed: Haz-Mat
Absorbency: Up to 34.7 L
Sold as: 1 each
Weight: 5.4 kg
# per Pallet: 50
Composition:
Bag – Vinyl Laminated Nylon
Mats & Socks – Polypropylene
Includes:
4 – 8cm x 117cm Socks
28 – 38cm x 51cm Mat Heavy-weight Pads
5 – 46cm x 76cm Temporary Disposal Bags & Ties
1 – 43cm x 52cm x 15cm Water-resistant Vinyl Bag
Technical Documents