PIG® Spill Kit in a See-Thru Bag #KIT367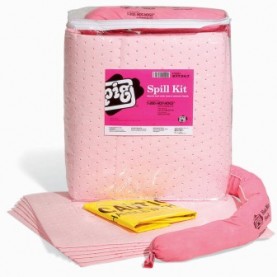 Sold as: 1 each
A See-Thru Bag lets you see the contents of this Spill Kit all the time.
Product Details
Product Description
This low-cost PIG® Spill Kit is packaged in a See-Thru Bag, so you can inventory your spill response absorbents with a quick glance. It's affordable enough to stock at all of the spill-susceptible locations throughout your workplace.
Includes PIG® Socks to contain and absorb spills and PIG® Mats to absorb the contained liquid
Contains temporary disposal bags for neat and convenient disposal of used absorbents
Compact design — takes up little space; ideal for outfitting your entire vehicle fleet with spill kits
Warnings & Restrictions
To insure effectiveness and your safety, we recommend that you conduct compatibility and absorption testing of your chemicals with PIG® HAZ-MAT products prior to purchase. If you have any questions or need samples to test, please call Technical Services.
Specifications
Dimensions: 46cm L x 41cm W x 14cm H
Fluids Absorbed: Haz-Mat
Absorbency: Up to 18.5 L
Sold as: 1 each
Weight: 2.3 kg
# per Pallet: 36
Composition:
Bag – Vinyl
Contents – Mats – Polypropylene
Socks – Polypropylene
Dimensions (Box): 45cm L x 39.5cm W x 17cm H
Includes:
3 – 8cm x 117cm PIG® HAZ-MAT Socks
12 – 38cm x 51cm PIG® HAZ-MAT Pads
2 – 76cm x 46cm Temporary Disposal Bags and Ties
Technical Documents