PIG® Small Wall-Mount Spill Kit #KIT315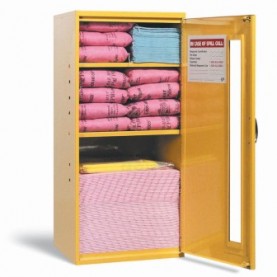 Sold as: 1 each
Small wall-mounted Spill Kit for labs and other areas prone to smaller spills.
Product Details
Product Description
See-through front panel — check inventory levels quickly and easily
Write-on label for emergency phone numbers
Rugged welded-steel construction — corners won't bow or sag when cabinet is fully stocked
PPE not included
Absorbs acids, caustics and unknown liquids
Warnings & Restrictions
To insure effectiveness and your safety, we recommend that you conduct compatibility and absorption testing of your chemicals with PIG® HAZ-MAT products prior to purchase. If you have any questions or need samples to test, please call Technical Services.
Specifications
Dimensions: 35cm W x 76cm H x 32.4cm D
Fluids Absorbed: Haz-Mat
Absorbency: Up to 36.7 L
Sold as: 1 each
Weight: 17.69 kg
# per Pallet: 12
Composition:
Cabinet – Steel
Mats & Pillows – Polypropylene
Wipers – Polyester/Cellulose
Includes:
75 – 25cm x 33cm Heavy weight Mat Pads
10 – 20cm sq. Pillows
50 – 34cm x 30cm Wipes
5 – 46cm x 76cm Temporary Disposal Bags & Ties
1 – Emergency Phone Number label
1 – 35cm W x 76cm H x 32.4cm D Metal cabinet
Technical Documents