PIG® Mobile Container Kit #KITE401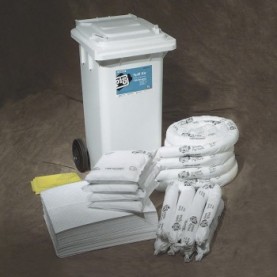 Sold as: 1 each
Fast, effective response to indoor and outdoor oil but not water spills.
Product Details
Product Description
Absorbs oil but not water spills
Durable, wheeled container is packed with high-quality PIG® Absorbents
Easy to transport supplies directly to the spill site
Weather-resistant polyethylene container protects the contents from moisture, dirt and damage (Containers are best kept indoors for long-term storage)
Hinged lid makes it easy to get the absorbents you need — just flip it open!
Absorbents are organised for quick, easy response
Heavy-duty rubber wheels roll easily over nearly any surface
Warnings & Restrictions
There are no known warnings and restrictions for this product.
Specifications
Style: Small
Color: White
Dimensions: 48cm W x 94cm H x 55cm D
Fluids Absorbed: Oil-only
Absorbency: Up to 86 L
Sold as: 1 each
Weight: 19 kg
# per Pallet: 6
Composition:
Container: Polyethylene
Booms: Outer skin – polyester; Inner skin and filler – Polypropylene
Mats: Polypropylene
Pillows: Polypropylene
Wheel(s): 20cm dia solid rubber
Includes:
4 – 8cm x 122cm Socks
2 – 8cm x 3m Socks
50 – 41cm x 51cm Static Dissipative Heavy-weight Mat Pads
5 – 91cm x 152cm Temporary Disposal Bags & Ties
4 – 31cm sq. Pillows
1 – 15cm x 5.5cm Tamperproof Label
1 – Spills Happen Leaflet
1 – 48cm x 55cm x 94cm 120L Wheeled Polyethylene Container
Technical Documents