PIG® Heavy-Duty Poly Spill Containment Pallet #PAK213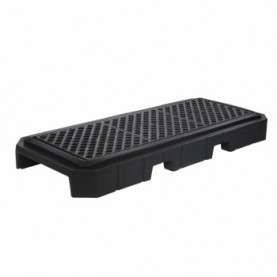 Sold as: 1 each
The PIG® Heavy-Duty Poly Spill Pallet helps you comply with containment regulations while storing steel and poly drums. Capture leaks, drips and spills to keep floors dry and workers safe.
Product Details
Product Description
2,041kg UDL capacity is strong enough to support three fully loaded steel or poly drums
Moulded-in sump catches leaks, drips and spills to help you comply with regulations and keep your storage areas clean and safe
Low 22cm height means loading and unloading require less effort and drum tops are within easier reach
Linear design fits perfectly along walls and allows easy access to each drum
Low-density polyethylene (LDPE) construction resists UV rays, rust, corrosion and most chemicals for long, trouble-free life
Removable textured grating enhances traction to minimise costly slips and to help prevent drums from sliding; lifts out to provide unrestricted sump access for hassle-free cleaning
2-way forklift entry allows easy movement from either direction (unloaded only)
Black colour hides grime for a neat appearance
Warnings & Restrictions
If using this product with flammable liquids, please consider the regulations that apply to storage and handling of flammable liquids and the safety of this application, specifically flammable vapours, static discharge and heat sources. For further assistance, please call Technical Services.
Specifications
Style: 3-Drum
Color: Black
Dimensions: 211cm L x 88cm W x 22cm H
Recycled Content: 43% Post-Industrial Recycled Polyethylene
Load Capacity UDL: 2041 kg
Sump Capacity: 250 L
Dimensions (Fork Pocket): 20.5cm W (at base) tapering to 18.4cm W (at top) x 10cm H
Distance Between Fork Pockets: 49cm
Sold as: 1 each
Weight: 39.9 kg
# per Pallet: 8
Composition:
Sump – Linear Low-Density Polyethylene w/ UV Inhibitors
Grate – Injection-Moulded Polyethylene Foam
Dimensions (Grate): 61cm x 183cm
Technical Documents