PIG® Counter Top Spill Kit #KITE281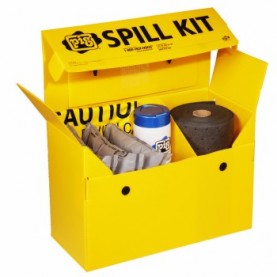 Sold as: 1 each
Versatile, compact Kit is ideal for small spills and dispenses PIG® Mat from a dispenser slot.
Product Details
Product Description
This portable Spill Kit is packaged in a durable corrugated plastic box and contains a variety of universal absorbents for tackling most spills. Unique dispenser slot gives user quick access to a roll of PIG® Universal Mat. Great for labs, workbenches, company vehicles, and more.
Compact corrugated plastic container is portable and durable; built-in handle for easy transportation and pre-cut keyhole for quick wall mounting
Contains PIG® Mats and Pillows, Hand Cleaner Towels and disposal bags and ties; ideal for handling most small spills
Dispensing slot for easy access to PIG® Mat Roll; Roll is perfed so you use only what you need
Custom-sized Replacement Mat Roll sold separately
Pre-moistened cleaning towels are ideal for cleaning hands without soap and water or for wiping down dirty surfaces
High-visibility container is easy to spot in the event of a spill; promotes quick response
Warnings & Restrictions
There are no known warnings and restrictions for this product.
Specifications
Dimensions: 43cm L x 18cm W x 29cm H
Fluids Absorbed: MRO
Absorbency: Up to 12.3 L
Perforated: Every 25.5cm (Mat)
Sold as: 1 each
Weight: 2.71 kg
# per Pallet: 36
Composition:
Box – Plastic corrugate
Mats – 100% Polypropylene
Pillows – Polypropylene skin, cellulose filler
Wipes – Polypropylene base material with natural orange extracts, emulsifiers and conditioning agents
Includes:
1 – 25cm x 8m PIG® Universal Mat Roll
3 – 25cm x 25cm PIG® Pillows
1 – 27cm x 31cm SCRUBS® Hand Cleaner Towels
2 – 46cm x 76cm Disposal Bags & Ties
Technical Documents