PIG® BUILD-A-BERM® Barrier #PLR264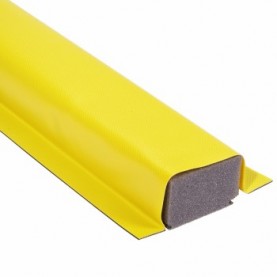 Sold as: 1 per box
Create a custom-sized, crush-resistant permanent Berm to confine leaks and spills.
Product Details
Product Description
Permanently contain leaks and spills around your machinery without building expensive cement curbs or cutting and installing angle iron.
BUILD-A-BERM® Barriers can be constructed into a semi-permanent, high-visibility barrier that's exactly the size and shape you need
Made of pliable closed-cell foam, so the Barrier springs back into shape after you walk on it or roll over it with wheeled equipment; won't impede foot or vehicle traffic
Durable all-vinyl covering resists oils, coolants and most chemicals
Section ends overlap and can also be sealed to create greater lengths of a liquid-tight barrier
Installation is easy; cut Berm material to desired length with scissors or a utility knife, cover connections with extra vinyl material then add Corners (PLR265) to completely enclose an area
Berm must be secured to floor with Sealant (sold separately)
NOTE: Not intended for use with heavy equipment or forklifts
Warnings & Restrictions
There are no known warnings and restrictions for this product.
Specifications
Color: Yellow
Dimensions: 457cm L x 14cm W x 5cm H
Sold as: 1 per box
Weight: 2.7 kg
New Pig Patent: 5,820,297
# per Pallet: 20
Composition: 610g/m2 Vinyl-Coated Fabric w/ a Closed Cell Polyethylene Foam Insert
Adhesive Application: Scuff' Underside of Berm Prior to Application
Notice: Driving Over w/ Heavy equipment or forklifts is not Recommended
Temperature (Minimum Application): 41°F (5°C)
Temperature (Recommended Service When Cured):
Technical Documents