PIG® Poly-Back Universal Mat #MAT283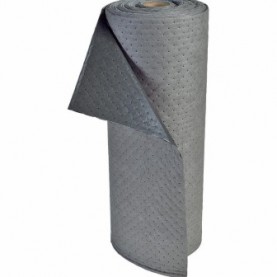 Sold as: 1 roll per bag
Liquids don't stand a chance of reaching your floor with PIG® Poly-Back Mat. Its 8 thirsty layers absorb leaks and overspray fast to keep your facility dry and slip free while an impermeable underside blocks liquids from seeping through!
Product Details
Product Description
Eight layers of 100% polypropylene are thermally bonded to make PIG® Mat the strongest mat on the market; won't rip, tear or fray even when saturated
Highly absorbent, fine-fibre construction won't leave behind trapped liquids or fibre residue
Exclusive dimple pattern speeds wicking of liquid across Mat, so fluids disappear fast and cleanup is simple
Absorbs and retains oils, coolants, solvents and water
Dark grey colour hides grime, so Mat stays on the job longer
Heavy-weight construction is highly durable and absorbent for demanding tasks and large-volume cleanups
Rolls are ideal for covering large areas and soaking up leaks and overspray
Poly back prevents absorbed liquids from reaching floors or counters and provides added traction for safe footing
Place over a spill with poly-back side up to suppress potentially harmful, flammable or irritating vapours
Flame-resistant material won't burn immediately like cellulose mats; melts when exposed to high heat
Can be wrung out and incinerated after use to reduce waste or for fuels blending
Warnings & Restrictions
There are no known warnings and restrictions for this product.
Specifications
Color: Grey
Dimensions: 23m L x 79cm W
Mat Weight: Heavy-weight
Recycled Content: 40% Recycled Content
Absorbency:  Up to 77.7 L per bag
Dimensions (Thickness): 5 mil (0.127mm) Poly Backing
Sold as: 1 roll per bag
Weight: 8.6 kg
# per Pallet: 24
Composition:
Mat – 100% Polypropylene
Barrier – 100% Polypropylene
Technical Documents