PIG® HAZ-MAT Pulp #HA8010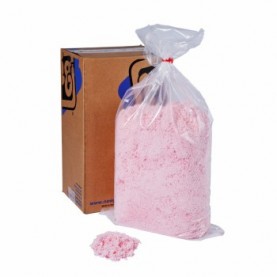 Sold as: 1 each
Fast-acting PIG® HAZ-MAT Pulp absorbs small chemical spills with no hassle. This light-weight absorbent is specially treated to pull in up to 10 times its weight of high concentrations of acids, caustics or unknown liquids.
Product Details
Product Description
Fast-wicking material is perfect for those first critical moments of spill cleanup
Made of 100% polypropylene to absorb acids, caustics, coolants, solvents and water
Specially treated to absorb high concentrations of corrosive liquids, such as 98% sulfuric acid and 30% sodium hydroxide, better than any other absorbent in the market
Ideal for small isolated chemical spills
Non-toxic, dust-free product is safe to handle and use without any risk
Non-abrasive composition will not harm floors or expensive machinery
Can be incinerated after use to reduce waste or for fuels blending
Warnings & Restrictions
To insure effectiveness and your safety, we recommend that you conduct compatibility and absorption testing of your chemicals with PIG® HAZ-MAT products prior to purchase. If you have any questions or need samples to test, please call Technical Services.
Specifications
Color: Pink
Absorbency: Up to 22.7 L
Sold as: 1 each
Weight: 2.3 kg
# per Pallet: 42
Composition: 100% Polypropylene
Technical Documents