PIG® HAZ-MAT Absorbent #MAT351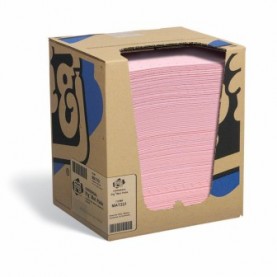 Sold as: 100 pads per dispenser
PIG® HAZ-MAT Absorbents are specially treated to absorb high concentrations of acids, caustics or unknown liquids better than any other absorbent in the market.
Product Details
Product Description
Fast-wicking PIG® HAZ-MAT Pads are quick and easy to use — just put them right on acid and caustic spills
Ideal for absorbing small battery acid and laboratory spills
Specially treated to more quickly absorb more chemicals — including higher concentrations of corrosive liquids such as 98% sulfuric acid and 30% sodium hydroxide
Perforated — minimise waste, just tear off what you need
Heavy-weight for maximum absorbency
Dispenser Box of 100 heavy-weight Pads
Warnings & Restrictions
To insure effectiveness and your safety, we recommend that you conduct compatibility and absorption testing of your chemicals with PIG® HAZ-MAT products prior to purchase. If you have any questions or need samples to test, please call Technical Services.
Specifications
Color: Pink
Dimensions: 33cm L x 25cm W
Mat Weight: Heavy-weight
Absorbency: Up to 37.1 L per dispenser
Sold as: 100 pads per dispenser
Weight: 3.7 kg
# per Pallet: 36
Composition: Polypropylene
Technical Documents