PIG® Clip-&-Fit® Absorbent Sock #PIG219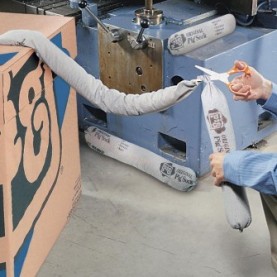 Sold as: 1 sock per box
Reduce waste. Make a PIG® ORIGINAL Sock that's exactly the right length.
Product Details
Product Description
Create a custom-sized, 5cm diameter PIG® ORIGINAL Sock in seconds — from 15cm to 37m long!
Pull exact length you need out of dispenser box, "clip" ends with cable ties (included), cut the material and "fit" your new sock perfectly into place
Ideal for routine maintenance schedules
Corncob filler pulls liquids from the floor for maximum absorbency and retention
Durable polypropylene PIG® skin improves strength and reduces dust
Each sock absorbs oils, coolants, solvents and water
Mouldable Socks conform to machine bases to catch leaks
No messy cleanup — just pick up the old one and put a fresh one down
Incinerable Socks are ideal for fuels blending
Absorbs up to 30 litres per box
Warnings & Restrictions
There are no known warnings and restrictions for this product.
Specifications
Color: Grey
Dimensions: ext. dia. 5cm x 37m L
Recycled Content: 99% Pre-Consumer Recycled Cellulose Filler
Absorbency: Up to 30 L per box
Number of Clips/Ties: 100
Sold as: 1 sock per box
Weight: 13.61 kg
# per Pallet: 12
Composition:
Filler – Organic Cellulose Material
Skin – Spunbond Propylene
Technical Documents