Pelican Pack® #PAKE214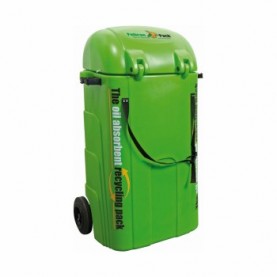 Sold as: 1 each
The Pelican Pack® dispenser is a uniquely designed mobile cart for the FIBRECAN® loose absorbent. This all-in-one system stores, distributes and recycles for convenient and efficient spill cleanup.
Product Details
Product Description
Saturated, solidified oily "clumps" are retained by the Pelican Pack® removable screen filter, while the unused absorbent passes through into the storage bin, ready for reuse
Comes fully equipped with all the tools you need to efficiently dispense & recover FIBRECAN® loose absorbent; includes a shovel, stiff bristle brush, hand scoop and sieve
Rugged polyethylene construction with heavy duty rubber wheels stands up to workplace use
Rear trapdoor protects the contents of the storage bin, yet opens easily for dispensing absorbent
Retaining net creates the perfect storage are for the hand scoop or additional PPE and wipes needed for the spill cleanup
Side-mounted rubber retaining clips securely hold the poly shovel and brush in place
Tight-sealing flip-open cover protects the contents during external storage
50-litre storage capacity holds two full FIBRECAN® Refill bags
Mobile unit is ideal for response to oily spillages in maintenance workshops, garages/service stations, haulage companies, engineering and more
Warnings & Restrictions
There are no known warnings and restrictions for this product.
Specifications
Dimensions: 65cm W x 110cm H x 72cm D
Capacity (Container): 2 x FIBERCAN® Refill (PLPE280)
Sold as: 1 each
Weight: 23 kg
# per Pallet: 2
Composition: HDPE
Includes:
Loose Absorbent Dispenser
Sieve
Shovel
Hand Scoop
 Stiff Bristle Brush